Exhibitor Registration
Thank you for planning to be with us at OCEANS '08 MTS/IEEE Quebec. We truly look forward to seeing you in Quebec City this September.
Registration for exhibitors is now solely done online. Before you start registering, please read the following:
The on-line process for exhibitors includes conference, tutorial, social event, and guest, if any, registration. If you have not done so yet, you may want to check the list of tutorials being offered on Monday September 15, the scheduled selection of social events and the proposed tours of the City and area. The registration module opens in a new window so that you can check these at any time during registration.
The registration process must be completed in a single session. Have all the information ready before you start. Notably,

If you are paying by credit card or wire bank transfer, have the relevant information ready.

All amounts are quoted and collected in Canadian dollars.
Please check the travel documents requirements. Owing to WHTI, Americans are now required to have a passport upon return to USA if arriving at an airport. See the Travel Tips Section.
An immediate confirmation email will be sent to you upon registration completion.
Once you have completed conference registration, you will be offered the option of booking accommodation at a number of hotels at the special rates negotiated by the conference.

Hospitalité Québec has been assigned as the Official Housing Bureau for the OCEANS '08 MTS/IEEE Quebec.
Quebec's 400th anniversary celebrations have put high demand on hotels. As a result, we recommend that you do not delay your reservations.
You can go back to the accommodation booking module any time after registration. You will be asked for the registration confirmation number emailed to you. To proceed to the accommodation booking module, click here.

Unless otherwise noted, your rental space lease includes a complimentary full registration and 2 booth staff registrations. Additional booth staff registrations can be purchased separately for $30.
Transfer of the registration to an alternative person within your organisation is acceptable provided notification is received by September 1, 2008. Please send your cancellation or substitution request in writing to info@oceans08mtsieeequebec.org.
Your registration includes the following elements (additional tickets are available for purchase for all events).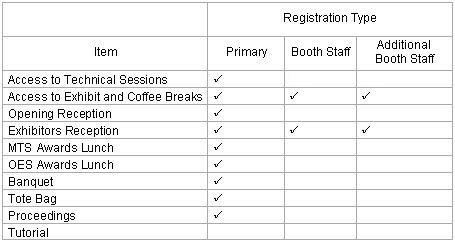 Questions and Answers