Québec City

A North American Treasure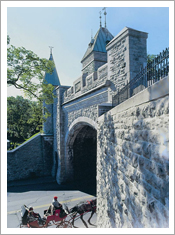 Declared a World Heritage Site by UNESCO in 1985, Québec City is the only city in North America to have preserved its original fortifications. Perhaps due to this respect for its one-time protectors, Québec City is recognized as one of the safest urban areas in the world! The cradle of French civilization in North America, Québec City is also a bilingual destination. Founded by French explorer Samuel de Champlain in 1608, Québec City has kept its European flavour. Cobblestone streets, sidewalk cafés, museums… Québec City is the ideal leisure and travel destination!
Just ask the readers of Travel & Leisure Magazine, who ranked Québec City 3rd in North America and 12th worldwide as the place to be. As well, the March 2004 issue of National Geographic Traveler ranks Québec City's historic centre 6th in its "Destination Scorecard." Moreover, Condé Nast Traveler readers listed Québec City as a Top-10 favourite tourist destination in the world, and No.1 in Canada! It also ranks Québec City as one of the three best destinations in terms of value for money.
Visit Québec City @
http://www.quebecregion.com/e/
2008 - Québec City Turns 400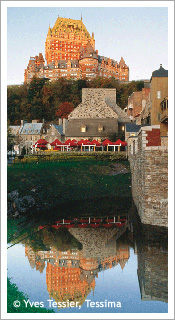 July 3, 2008 will mark the 400th anniversary of the founding of Quebec City. This milestone constitutes an event in itself. Indeed, few places in North America can point to such a rich history. But there is more to Québec's 400th anniversary than mere historical significance.
Focusing on the role that Quebec City has long played as a meeting place, the 400th anniversary celebrations will naturally showcase the city's history but also seeks to carve its place in history, leaving a legacy of pride for future generations. Québec City: a great place to be in 2008. More on Québec's 400th anniversary
here
.
Did you know that:
- During the 17th and 18th centuries, Québec City was the centre of New France? At the time, it covered all of what is known today as Eastern Canada, the Eastern United States, the Great Lakes and Louisiana, extending from Hudson's Bay in the North to Florida in the South.
- In the early 19th century, the port of Québec experienced a spectacular boom, growing to third largest in North America after New York and New Orleans? Plan to be with us to discover a lot more! In the meantime, discover Québec City's history
here
.
A Gastronomic Abundance - Over a Thousand Restaurants


Québec City is known as the gastronomic capital of North America. The downtown area and its historical district boast the most restaurants per capita on the continent! The choice of restaurants includes many of superior quality, indulging the widest possible range of gastronomic pleasures.
Another great way to experience Quebecers' joie de vivre is to partake of the downtown nightlife! Catch a jazz set, taste a local beer directly from the microbrewery, hit the dance floor at one of our many nightclubs… open until 3 a.m.! More on restaurants and pubs
here
.
Outdoor Activities - Pristine, Natural Surroundings
Just a few minutes from downtown, re-discover the wonders of nature! Surrounded by mountains, lakes and rivers, there is always something exciting to do for anyone who loves great outdoors. In addition, September is a great time of the year to admire the region's magnificent change of colours. White-water rafting, hiking, mountain biking, horseback riding, golfing… the choice is yours! From convention floors to the great outdoors in 20 minutes! More on outdoor activities
here
.